Tanay Mondial 2020 Quick Travel Guide
This is a quick travel guide for getting to, and around Russia on your way to the Tanay Mondial 2020 this August 2021 - transportation and logistics. It's aimed at skydivers traveling to/from Russia for this event.
DZ Tanay is located about 1.5 hours away from Novosibirsk (Новосибиркс) and 1.3 hours away from Kemerovo (Кемерово), in the town of Zhuravlevo (Журавлево), in Siberia. Its time zone is 4 hours later than Moscow, so travel planning must include jet lag across multiple time zones. This guide is based on the planned journey from the San Francisco Bay Area to DZ Tanay via Moscow, the fastest and easiest route.
Getting to Russia - find the fastest, most direct international flight to Moscow. If possible, fly Aeroflot -- their international service is better than any US airlines and the separation between seats is greater in coach

Routes: Washington DC, New York, Los Angeles and Miami
Find the closest connection and partner airline

Spend the arrival night in Moscow - plenty of airport hotels, with a wide price range, to recover from the intercontinental flight

You'll land at Sheremetyevo (SVO) terminals E or D

Fly to Novosibirsk the following morning; remember the +4 hours difference between Moscow and Siberia

Aeroflot domestic is like US domestic (kinda sucks a little) but it's better than the regional airlines (which tend to suck a lot)
Novosibirsk has several flights per day from Sheremetyevo terminal B
Other airlines to Novosibirsk or Kemerovo may depart from Domodyedovo or Vnukovo airports - they are literally hours away from Sheremetyevo (same problem going the other way)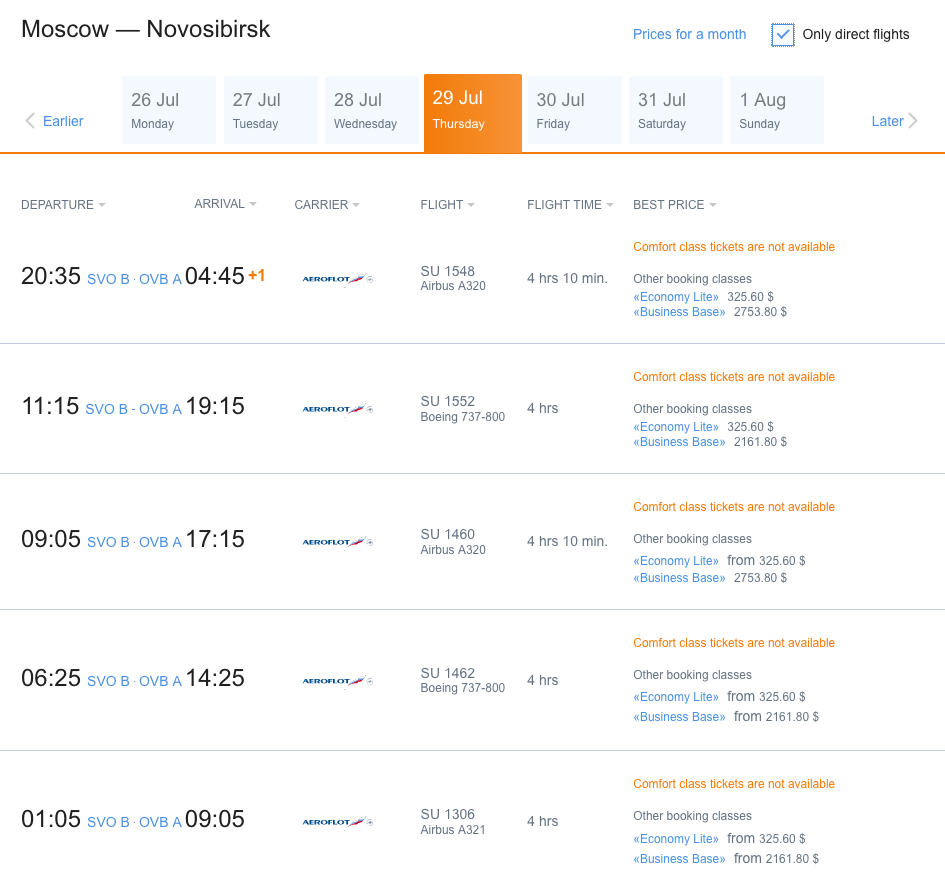 If you want to do this in one haul, notice the 01:05 departure from SVO, arriving at 09:05 NOVT

You'll need to get from the arrival terminal to Terminal B - and it's got fewer amenities than Terminals D, E / international

Watch your connections if you don't fly Aeroflot / Delta / SkyTeam airlines!

Example: American Airlines / British Airways flies into Domodyedovo; Aeroflot flies to Novosibirsk from Sheremetyevo ONLY - that's a 3-hour drive in Moscow traffic, or a 2 hour train connection involving two electro trains and metro rides through Moscow - complicated

Coordinate with the Tanay Mondial 2020 organizers to pick you up at the airport if you don't want to drive - free transportation to/from DZ Tanay starting 07.Aug.2021 (see FAI Tanay Mondial 2020 Bulletin #2 for details)
You can rent a car or SUV in Novosibirsk through Avis and other companies

Avis seems to be the one that gives the least grief to foreign drivers

Return home - follow the same suggestions backwards
This quick guide did not cover Kemerovo or other alternatives because they're more convoluted, expensive, have fewer airline options, or otherwise complicate the journey. Happy to hear about other options and opinions.
Questions, comments? Let's chat on Telegram!
Coming soon: playing tourist in Russia (Moscow) on the way back home.
Written by Eugene Ciurana on Thursday May 27, 2021
Permalink -